BucknerMiles.com Law Firm Web Design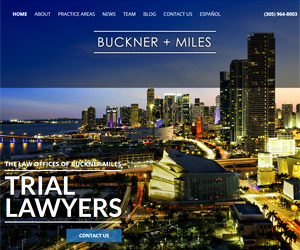 The Law Offices of Buckner Miles hired the team at South Florida Web Studio to create a new responsive website to kick off their new practice. With years of experience in state and federal courts in Florida and throughout the country, Buckner Miles is the premier Law Firm in Miami for catastrophic personal injuries and wrongful deaths, complex commercial disputes and class actions, medical malpractice, aviation accidents, and qui tam claims.
Their new legal website is responsive, mobile friendly, easy to read and navigate. The initial design was launch in February 2016. Check out the link below.
Website: http://www.bucknermiles.com/